1st – 8th July 2022, Lisov Museum, Slovakia
"It was a great pleasure for me to be part of a sensational team. Throughout the project week I practiced activities that I learnt from my grandparents, but I have also learnt new things that are useful in the work I do in my village. I met new people that I made friends with and I hope we can meet again in new, exciting projects." Diana Figlea, participant in the ALITHE action in Slovakia.
Introduction:
SVK Senior Learners Training Action (LTA). Active Learning about the influence of Romans in Slovakia will take a place in the organization Lišov Múzeum (LM), which is based in the small village called Lišov, in Krupina county , region Hont, in Southern part of Slovakia , very rich in many monuments and places to visit and discover, old towns and villages with beautiful architecture and story to tell, a rich nature reserve, and the possibility for a peaceful rural life and opportunity to learn old dying skills and crafts and develop new possibilities for the life in 21st Century and sustainable.
Lišov village is close to the famous spa town Dudince – situated in a picturesque environment, in which the effects of unique mineral water combine with healing impact of unspoilt countryside. Thirty-two natural travertine pools called ´ Roman Spa ´ make it evident that this combination of unique qualities had already been known to ancient people. We hosted a team of 12 senior learners, 1 accompanying person and 5 staff participants. From Germany Elke Rosemarie Julich, Horst Herbert Julich and Thomas Kroenert, from Romania, Monica Oprean, Aura Muntean and Diana Figlea, from UK, Mark Graham, Rebecca Leach, Patricia Shaw, Faye McNamarra and Martin David Clark, from Cyprus Phil Bird, Anna Bird Geoghiou, Tony Pickard and Mina Beltran, from Bulgaria Velislava Chilingirova, Irena Kamburova and Mariela Chilingirova, from Slovakia Jakub Dvorský and Adriana Dvorská.
Lišov Museum Background & History
Lišov Museum came under new management 7 years ago and is now being run as an innovative community driven organization. Lišov Museum has developed its research and operating model under the 4 pillars of sustainability (environmental, cultural, social, and economic).
The Lišov community has a complex and rich cultural history and has come under many different geopolitical, social and agricultural influences in the recent and distant past. The cultural heritage in the immediate surroundings of the museum is exceptional and includes a diversity of tufa cave dwellings, a range of traditional vernacular architecture, and it is very near the Neolithic Fossa Giganteum monument which runs throughout parts of Central Europe.
There are 3 main parts of the Lišov múzeum:
Lišovská izba – the village stone house from 1916, celebrating the cultural heritage and vernacular architecture of local rural life.
Celtic round house – shows the links with the prehistoric and early historic heritage and provides training opportunities in traditional skills and materials.
Mask Gallery- the international mask collection which exhibits masks from around the world and inside the gallery we have
small green village shop with local handmade products from the museum production, village and nearby producers, farmers, artists.
As with many rural areas of Europe the village has experience of rural unemployment, changes to land ownership and management, and changes in the social makeup of the community.
Lišov Museum is beginning the journey of working with local people to tell their stories, celebrate their heritage and to diversify and increase local livelihoods.
All that we do revolves around sustainability, which means using local materials, local skills and creating local products…and linking to like-minded organizations who have other local products, which can be showcased and sold in the museum shop. Our buildings are restored using traditional methods and we draw from the wealth of local art and craft for decoration. It is important that the museum has a place in the wider community of the village and the Hont region, so we cultivate and enjoy a fruitful relationship with the mayor, local shakers and movers and bottom-up organization such as the local LEADER group. We welcome visitors from all over Europe, who share our ethos and can swap skills and knowledge to help themselves and the museum to grow into a more sustainable rural future.
Web: lisovmuzeum.sk
Day 1 – Friday (1.7.2022)
Arrival and transfer to Dudince and Lišov.
Dinner 19:00
Day 2 – Saturday (2.7.2022)
9.00 – Meeting in Lišov, presentation of our work in Lišov in the Museum, we talked about possibilities of living in rural areas, improvements, developments, sustainability, meeting local people, historical environment
12.30 – Lunch prepared by local lady
Coffee and cake break, small tour around village
14.00 – We visited Cave houses in Lišov – used for living and storing crops and food, talking about sustainability and development in these caves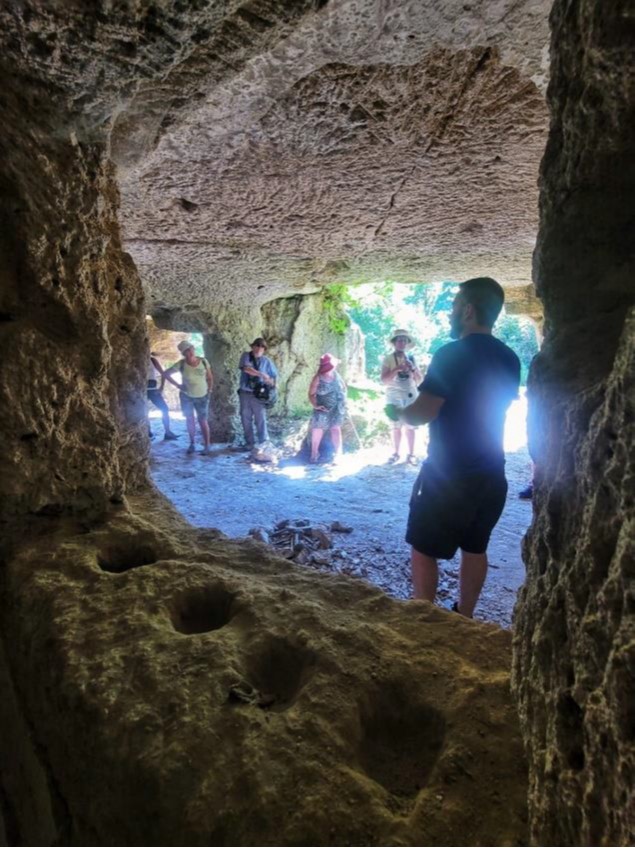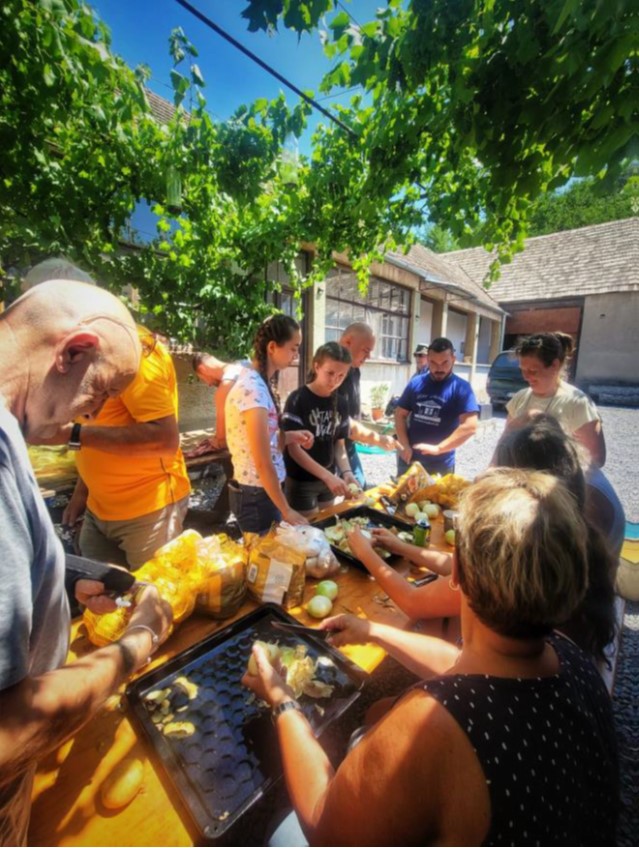 Day 3 – Sunday (3.7.2022)
9:00 In the morning we had a tour around the spa town Dudince and visit Roman's spa. Spa Treatment in Dudince are based on the using of rare balneological properties of mineral water. In the treatment of diseases of cardiovascular, an important component is carbon dioxide, and in the treatment of diseases of the musculoskeletal system and the nervous system of sulphur, in the form of hydrogen sulphide.
In the afternoon we visited historical town of Krupina, where we had a tour around the town we visited the underground of the town, after we visit local farm which was turn into a pottery workshop place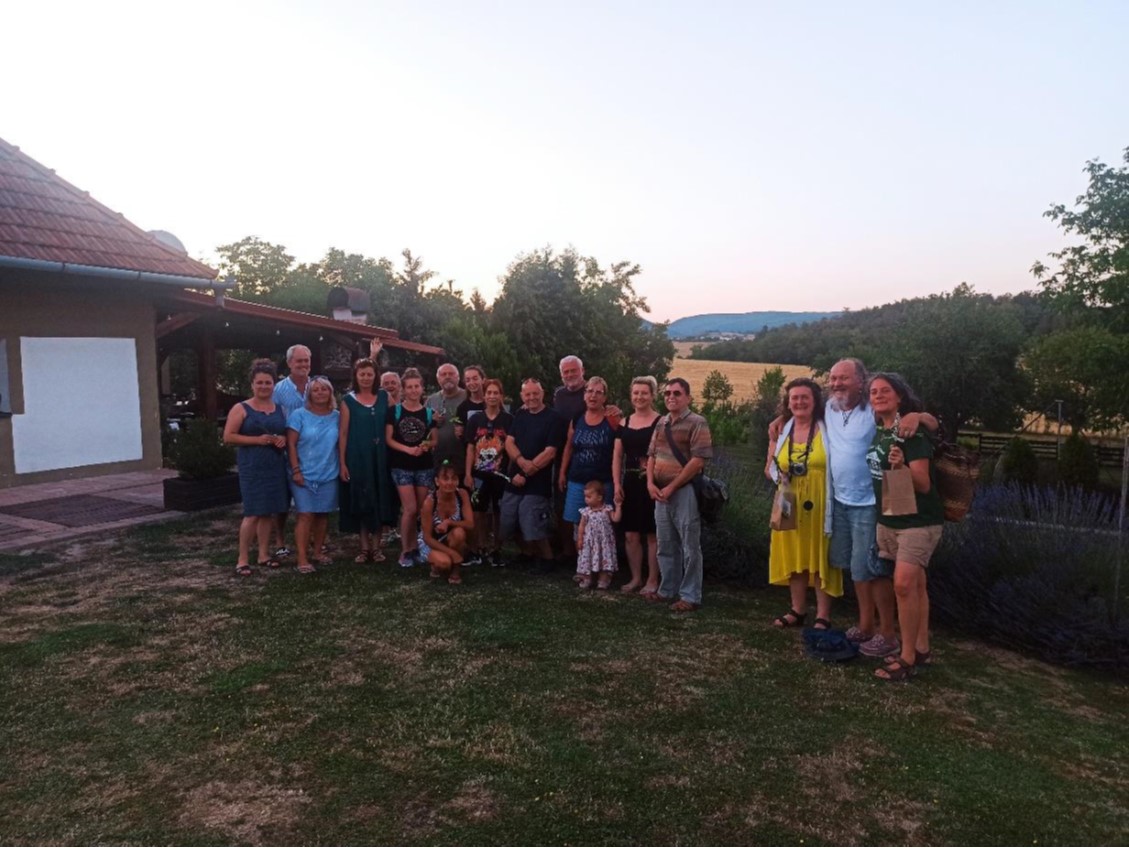 Day 4 – Monday 4.7.2022
9:00 In the morning we had a workshop with wool in the village of Lišov.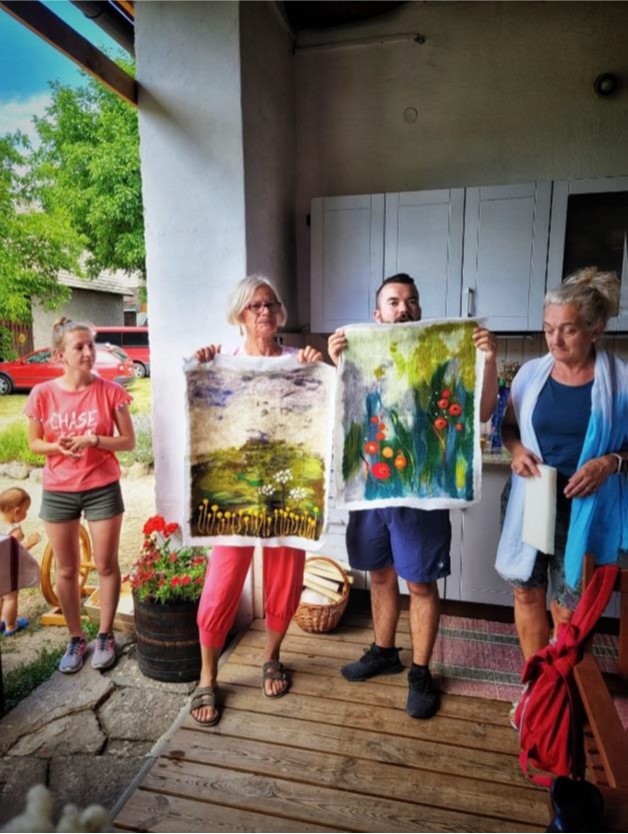 13:00- Searching for the Romans in the Slovakia" We drove to Esztergom – on the border SVK/HU, Esztergom region, which was conquered by Rome. Thereafter it became an important frontier town of Pannonia, known by the name of Salvio Mansio, Salvio, or Solva. German and Avar archaeological finds found in the area reveal, that these people settled there following the period of the migrations that were caused by the fall of the Roman Empire. We had a tour around Esztergom and discuss together, what is the influence of Romans in Slovakia (Romanization) and, on the other hand, how the original tribes could affected the Romans (Barbariation).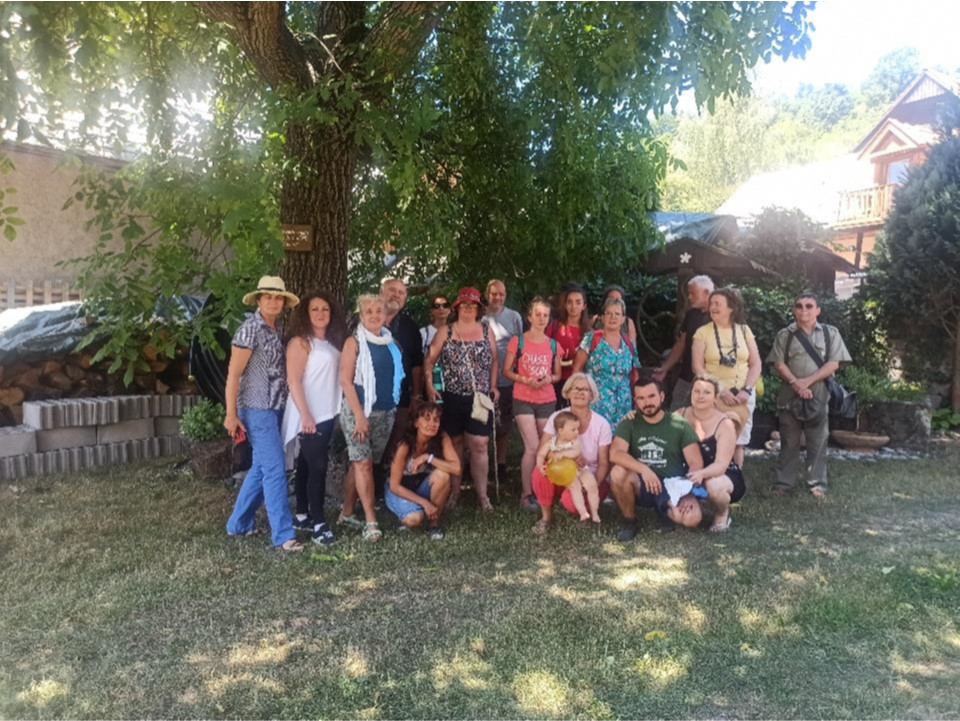 9:00 – ,,Roman concrete" also called opus caementicium, was a material used in construction in Ancient Rome. Roman concrete was based on a hydraulic-setting cement. It is durable due to its incorporation of pozzolanic ash, which prevents cracks from spreading. During this day we presented to our senior learners how to use different natural materials in building, especially materials used in ancient period. Brick making.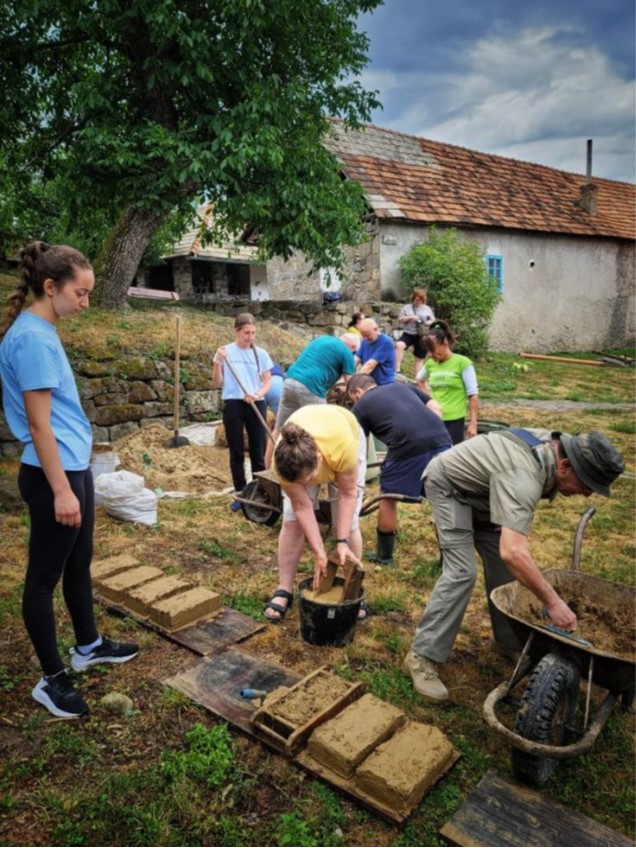 Day 6 Wednesday (6.7.2022)
9:30 Visit Brhlovce /village with traditional cavehouses, ´Caffe Gallery´ project coffee shop.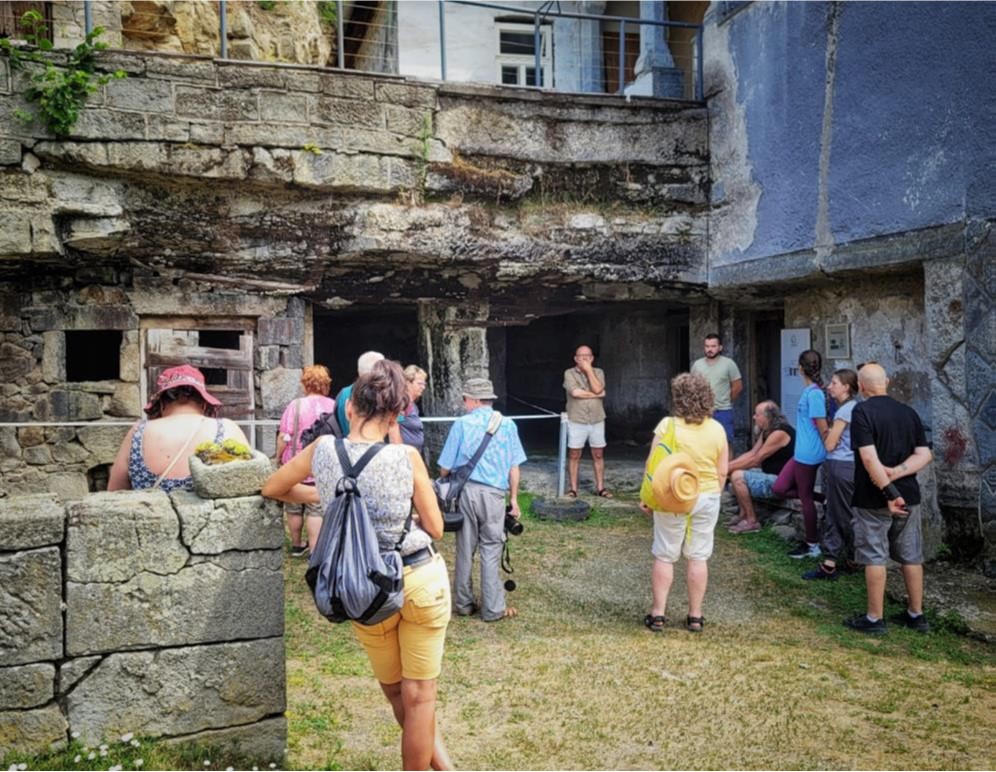 Project meeting and clay plastering.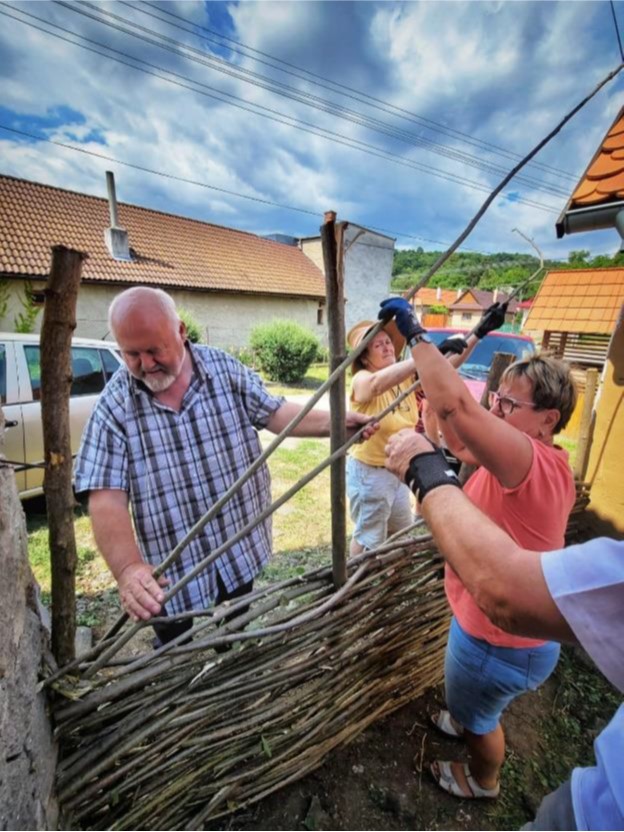 Day 7 – Thursday (7.7.2022)
9:00 – Wattle fencing workshop
"Everything was very well organized. Everyone was there with a lot of friendliness, willingness and thirst for knowledge. I was able to learn a lot." Horst, German participant in Slovakia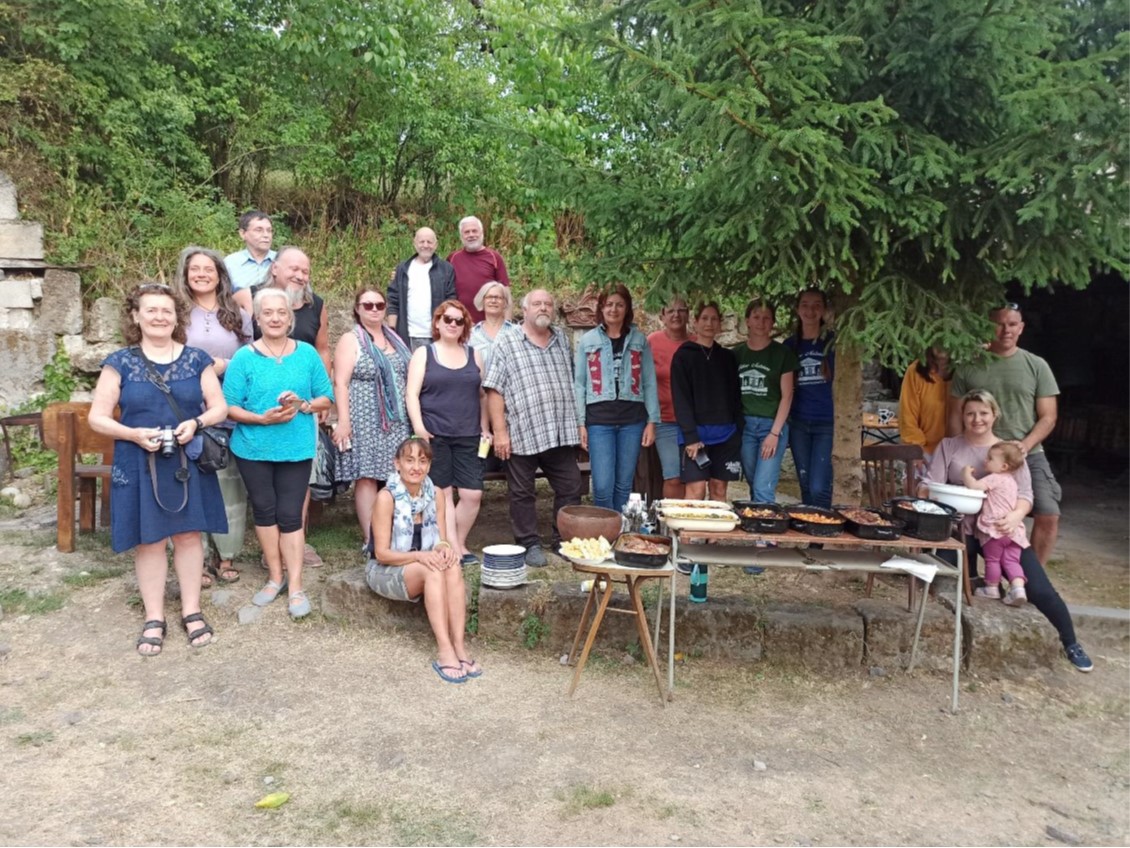 The European Commission support for the production of this publication does not constitute an endorsement of the contents which reflects the views only of the authors, and the Commission cannot be held responsible for any use which may be made of the information contained therein.